Kleines Preview von V2
Hier ist bereits ein Teil von V2 (Detailseite). Alle anderen Bereiche werden zeitnah nachgereicht und laufen noch auf V1.
Feedback via E-Mail ist erwünscht.
Cover & Fakten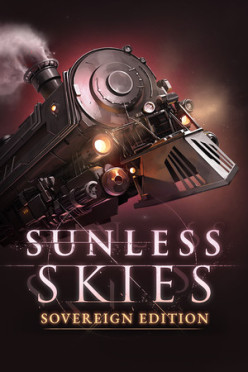 Spielbeschreibung
Set a course for the heavens in your steam locomotive! Lose yourself in a changing universe where even time can be bought. It is the dawn of the 20th century, and the British Empire has taken to the stars! As the captain of a spacefaring locomotive you'll behold wonders and battle cosmic abominations in the heavens. The stars are alive. They are the Judgements: vast intelligences that govern all things. But they are dying. One by one, something is snuffing them out, leaving their thrones empty. Unfettered by trivial things like gravity, the Empire's ambition is savage. They have built a new Sun. The Empress reigns from the Throne of Hours, which gives her control over time. Your Captain and crew must carve out a life between the stars. Will you support her majesty and the establishment, or the working class rebels who yearn for freedom from the Workworlds? Learn who you are, in the dark. Die, and leave the world the way you want it for your successor...

(Sorry, leider liegt uns derzeit nur eine englische Spielbeschreibung vor.)
Spezifische Informationen zum Release
ElAmigos release, game is already cracked after installation (crack by Codex). Updated to version 1.3.0.0 (12.09.2019).
Sunless.Skies-ElAmigos
964 MB
Premium

uploaded.net
Der Download via zippyshare.com ist aus Deutschland nicht möglich. Dafür einfach den zippy.direct-Mirror nutzen (funktioniert allerdings nur direkt und noch nicht mit dem jDownloader).
Minimale Systemanforderungen
Betriebssystem: Windows XP SP2+
Prozessor: SSE2 instruction set support
Arbeitsspeicher: 1 GB RAM
Grafik: DX9 (shader model 3.0) or DX11 with feature level 9.3 capabilities
Speicherplatz: 700 MB verfügbarer Speicherplatz
Soundkarte: DirectX 9.0c compatible